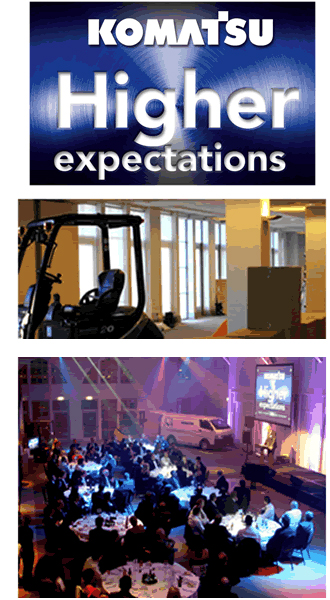 Brief
To create a gala dinner event for Komatsu customers that celebrates the transition from agency representation (Red Australia) to direct representation (Komatsu Australia) as the sole representative for Komatsu products in Australia; and to launch Komatsu's revolutionary new eco-friendly forklift truck.
Both the CEO of Komatsu Japan, and the Japanese Consul General in Australia would be in attendance.
Turnaround was very short. Just four weeks.
Solution
Working in close consultation with Komatsu's marketing agency, Adrenalin, we sourced at short notice, Crystal Palace at Luna Park for launch.
Budget was tight, so we enlisted a boutique staging supplier to supply specific lighting and sound design for this one-off event. Thus saving valuable dollars whilst maintaining first-class execution and high production values.
Experiencedna then assisted the agency, Adrenalin, in developing a cut-through theme, "Delivering Higher Expectations". We sourced and locked in Ali Mutch, face of QANTAS destination guides and Big Pond TV, as MC. Experiencedna then created a unique environment within Crystal palace: Walls of pristine packing boxes forming passageways, projection surfaces and specifically a memorable surprise moment to celebrate the Brand transition fro Red Australia to Komatsu Australia. A collapsing wall delivered a 'wow!' reveal of the new forklift.
In pre-production we crafted the MC scripts, provided scripting for the Komatsu presentations, edited video and coached the presenters. A truly top-to-bottom service for a great client!
Result
A very successful launch. A very happy Komatsu and a very happy agency.
Adrenalin said: "What can we say………………. THANK YOU SO MUCH! Experiencedna and your team were fantastic. Everything ran like clock work and Komatsu is very happy."