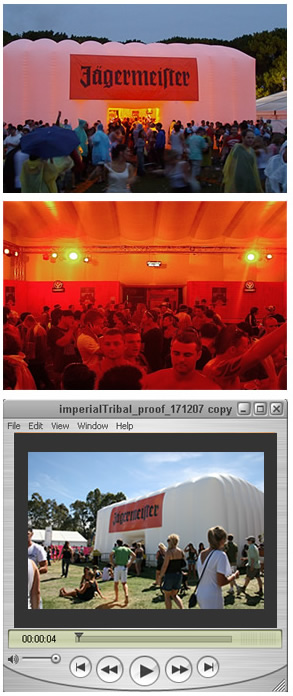 Brief
Design and deliver a memorable Jagermeister music activation at key national summer music festivals including Good Vibrations, V Fest, and Nevereverland.
Solution
The Jagermeister Bloc – A 15mtr x 15mtr x 7mtr custom-built inflatable venue containing a 10 mtr long Jagermeister bar, a custom-built DJ Booth and lighting.
experiencedna designed and sourced a competitive local manufacturer, and built two inflatable structures at achievable costs to cover simultaneous events around Australia.
The venue was the standout feature wherever it appeared, and at night it literally glowed with excitement, drawing so many festival-goers that numbers had to be strictly controlled.
Result
The Jagermeister Global CEO said its one of the best activation he has seen anywhere in the world and would like to see it in every country Jagermeister has a similar program.
"I'm very impressed. We have Jager buses in NZ, Mobile stages in the US and boats in Croatia but this is the perfect example of what we should be doing at music festivals. It combines a functioning bar, a stage or DJ area, an outside drinking area, is 10m high and glows orange. Wow".
Global CEO Mr. Jack Blecker
"The day expereiencedna gained our Festival activation business was the day my life became a lot easier. Not only have they had the best concepts and ideas but they are truly professional, benevolent, proactive and always generous with their time. What is also clearly evident is the hard work that goes on behind the scenes to ensure that it is smooth sailing at all festivals and events we are collectively involved in.
A huge feather must go into DNA's cap with the current Jagermeister activation. Not only jas t been highly successful in Australia but the CEO globally of Jagermeister has stated he would like to use DNA's activation on the international stage. To Roger, Ian, Sam, Terry and the many other that have worked with us over the year I say a huge thankyou. We really look forward to working with DNA for many events and years to come".
Jagermeister Music & Events Manager